Eind oktober werd het nieuwe boek van
Esther Kreukniet
feestelijk gepresenteerd. Misdaadverslaggever John van den Heuvel nam het eerste exemplaar van
En passant
in ontvangst onder toeziend oog van een groot aantal bekende televisiedames. De boekpresentatie was een groot succes en het regent inmiddels goede recensies voor
En passant
dat door The House of Books is uitgegeven.
Het boek gaat over Michelle die in een coma ligt na een ernstig auto-ongeluk. Herinneringen aan haar zorgeloze leven komen in flarden voorbij. Een luxe leven in Kralingen met haar succesvolle man, twee kinderen, een vakantiehuis in Zuid-Frankrijk, vrienden, en alles in overvloed. Maar al snel merken we dat haar leven niet zo zorgeloos is als het lijkt. Steeds meer geheimen komen boven water…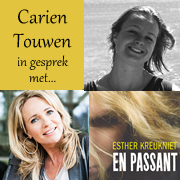 Esther Kreukniet debuteerde in 2002 met Beau Ravage. Haar derde boek Carte Blanche werd in 2011 door Margriet verkozen tot het ultieme zomerboek. Esther is een drukbezette vrouw; ze heeft haar eigen communicatie-adviesbureau, werkt als freelance journaliste voor diverse (dames)bladen en kranten, geeft regelmatig schrijfworkshops en schrijft ondertussen ook nog boeken.
Speciaal voor Vrouwenthrillers.nl reisde Carien Touwen naar Rotterdam waar ze Esther Kreukniet uitgebreid interviewde over haar nieuwste boek. Ze hebben een enorm leuk gesprek waarbij heel wat meer dan En passant ter sprake komt. Een ding moge duidelijk zijn: Esther is een tevreden mens. Ze is oprecht blij dat ze alles kan doen wat ze nu doet en met haar prachtige nieuw boek en de vele positieve reacties hierop.